Innsbruck attractions
Goldenes Dachl - Golden Roof
But also the city itself has numerous sights. the most famous is the "Golden Roof" which shapes the centre of Innsbruck and the "Maria Theresien Strasse" with its exclusive stores and cafés.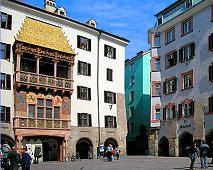 Old Town
Another highlight of Innsbruck's historical centre is the "Dom zu St. Jakob" which was built in the 17th century in baroque style. The altar with the famous "Mariahilf" painting and the overwhelming ceiling paintings from C. D. Aban.
Visit the old and famous Inn-bridge which gave Innsbruck its name. Standing on the bridge you have a marvellous view to the "Nordkette" to the colourful houses of the "Mariahilfstraße" and to the historical centre of Innsbruck.
In the center of the Maria Theresien road id famous St. Anna monument donated to the city in 1703. The St. Anna day is celebrated on 26. of July.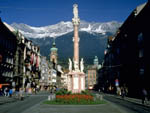 Berg Isel Schanze
To have a beautiful view over the town you should visit the brand new ski jump called "Berg Isel Schanze" which was built in 2002.